T H E C H A R A C T E R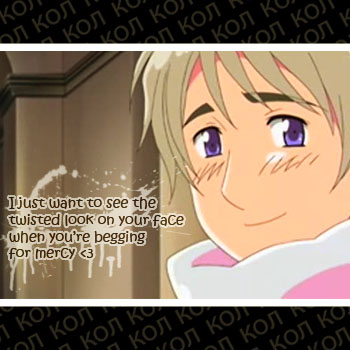 Full Name:
Ivan Braginski
Age:
25
Birthday:
December 30
Gender:
male
Is this an application for a first or second character:
First
Family:
mafia family; such as Italian, Asian, English, etc.
Russian
Rank:
head
Strengths:
Mental Instability,weapons expert melee and ranged, Fear Bringing Presence, Increased Strength,Belarus...or atleast using her as his mightiest weapon
Weaknesses:
Family,Drinking,Icy cold to the touch ,Mental Instability,Tino
Personality:
A large young man who is seemingly bighearted and innocent, but is in reality childishly cruel. He comes off as intimidating without even saying a word, his gentle smile and disposition only intensifying the aura of dread which seems to constantly hang over him. In a recent profile from the third volume of the published manga, Russia was described as gentle and naive, and not malicious, but insane. Russia ends many of his sentences with 'da', the Russian word for 'yes'.
When Russia is upset, he uses the chant "KolKolKol" to threaten and frighten others into submission.
When he took over his father's buisness the mentaly unstable head of house made Toris his heir with a simple gunshot to his right hand man, Dropping him. Now he varies from day to day, even willing to go as far as to consider marrying his possesive sister.


History:
Ivan Braginski, Born to Nikolai Braginski father and Mother Mayra Braginski, His father was the first head of the family both famiglia and Mafia as well, Ivan was born as a middle child, but his cold tactic and skill impressed his father to pass the family buisness down to him directly. He has suffered alot of battles and his eyes always held the truth behind him.

He has been tormented since his childhood, having seen many tragedies,drug wars, and other various Mafia related issues which have cracked his mentality. In a fight with the nordic family, Ivan suffered a near fatal gunshot to the head, due to Tino no less, The shot put him into a coma for eight months, when he recovered he had found his father dying and his sanity all but gone.
Other Important Info:
- icy cold glare- Vodkaaaaaaaaaaaaaaaaaaaa
Roleplay Sample:
- The blonde haired, purple eyed, man sighed after taking a long drag of his cigarette, " So, you wish to join the family buisness Da? ". With that he exhaled the smoke into the young Toris' face,and with a smile as blissful as a childs, the cold Russian stated, " We will see what you can do." With that, and another very long inhale, Ivan smiled and shot the man to his right, " Welcome Toris." he said with a calm smile. Though his violet orbs told all who looked within ,if you didn't know already, he was indeed a madman. Through this act of thoughtless violence he made Toris his heir.
O O C I N F O R M A T I O N
Name:
Timezone:MSN/AIM;etc:
lozofjenova
You read the rules, right?:
i think so? ( yes purple)
Anything else?:
nyet
Last edited by Ivan Braginski on Sat Nov 13, 2010 1:53 am; edited 1 time in total



Posts

: 20


Join date

: 2010-11-12


Age

: 31


Location

: russia ( sometimes )



Thank you for fixing the things that I asked of you. You are accepted now. I am glad that we finally have another Russian mafia head around here, and your house is slowly becoming more complete! Lucky you~! Feel free to start posting. Goodness, this forum is getting a lot of people that I met at AAC on it, isn't it? Welcome to the forums!
Moderator





Posts

: 37


Join date

: 2010-09-11





Similar topics
---
Permissions in this forum:
You
cannot
reply to topics in this forum